SPE Workshop: Geomechanics Results
The third SPE Workshop: Oilfield Geomechanics was held online on 4-5 March 2021.  The remote format did not become an obstacle for traditionally active and deep discussions. The programme included 25 presentations from leading experts were accompanied by questions, comments from experts and discussions of colleagues "in the shop".
Over 65 delegates from major operating companies, including Gazprom Neft, Zarubezhneft, LUKOIL, Rosneft, Tatneft, Geosteering Technologies, PetroGM, Phystech Geoservice, Baker Hughes, Halliburton, Schlumberger, Weatherford and more.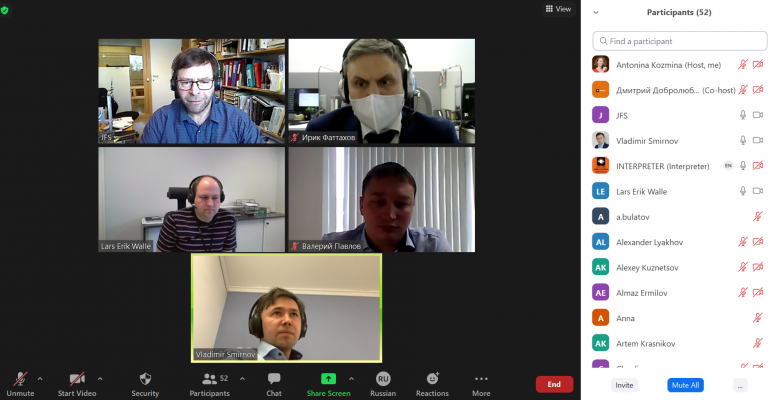 The programme committee and moderators selected the best presentations:
Andrey Patutin, Mining Institute, Siberian Branch of Russian Academy of Sciences
Development of a laboratory setup for the experimental study of hydraulic fracturing of large-sized cubic samples
Alexander Fedorov, D. Ardislamova, BashNIPIneft
Wellbore stability in anisotropic subsurface
Artem Krasnikov, R. Melikov, E. Korelskiy, Geonaft
Geomechanical monitoring for field development
Anna Galysheva, A. Bakuta, I. Bazyrov, Gazpromneft STC
Geomachanics solutions for automation of data audit
Valery Pavlov, V. Kuleshov, D. Korolev, M.Subbotin, TNNC
Application of 3D/4D geomechanical modeling results: case studies on fields from Eastern Siberia to Volga-Ural region
Alexey Gula, A. Bochkarev, D. Torba, N. Zakharenko, Phystech Geoservice; A. Glazyryna, Y. Ovcharenko, Gazpromneft STC
Full cycle modelling for brownfield: best practices
The online format gave the delegates a chance to visit the laboratory of the Independent Research Organization SINTEF, open a discussion with its leading scientists – Larse Erik Walle and Jørn Stenebråten, and take part in a lecture from one of the world's recognized experts in geomechanics, Professor Rune Martin Holt. All the delegates noted both online tour at the SINTEF and the lecture were outstanding and productive experience.
The programme committee noted that the presentations and discussions are improving from year to year. Numerous integrated projects presented at the workshop reflect industry trends. The delegates shared not only positive but also valuable negative case studies. In 2023 we are going to broach more fundamental open issues.
We are proud that SPE online workshops open new horizons, and we will continue to find new ways to share industry knowledge.
See you at SPE events!